Yes, really.
I'm not talking about his current job as host of The Late Show, but rather his Tolkien geek status.*
You see, according to
a recent Destructoid article
, there's a Tolkien Loremaster on staff at Standing Stone Games to make sure they remain true to LOTR and The Hobbit. That Loremaster also consults with some academics on Tolkien as well as investigates Medieval and Dark Age source material to help round out the work on LOTRO. If that doesn't sound like a job perfectly suited for Stephen, I don't know what does.
I knew that Blizz had a resident Loremaster on WoW Lore, but I was unaware of Standing Stone having a resident Tolkien Geek in-house. Okay, they're all likely Tolkien Geeks to some degree, but the knowledge that there's an official Loremaster position was news to me. But this makes all kind of sense, given the amount of work that went into the storyline behind LOTRO. LOTRO was definitely not a "throw it on the wall and maybe it'll stick" philosophy that some MMOs I've played have; the game is so well done that there are parts to LOTRO that you'd swear were part of Tolkien's world that were actually made up for the game.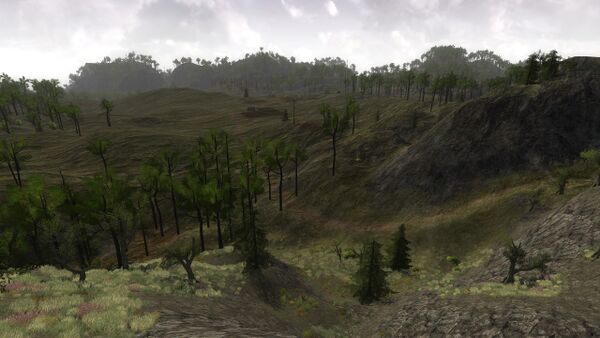 Like most of the North Downs, for instance.
In LOTR, North Downs consisted of The Greenway
and the ruins of Fornost. And that was it.
From lotro-wiki.com.
So here's to Standing Stone for putting forth real effort to make LOTRO appealing to your resident Tolkien geek.
*I thought I was a Tolkien geek, but Stephen outgeeks me by a long shot. My Tolkien knowledge ends at Unfinished Tales, as I simply could not get into the books of notes and early versions of the Middle-earth stories collectively titled The History of Middle-earth. My brother-in-law, however, has read them all and he also rereads The Hobbit and LOTR annually.