"You want me to reset your password? Now? It's the middle of the night on a Saturday, and there's no emergency going on."
"Yes, I need it now!"
"There's no change going on right now for your server! This is not important! It can wait until Monday!"
"But it's important to ME!"
--A (paraphrased) exchange an ex-coworker of mine had with someone who paged him awake at 3 AM to change the person's password. Because he decided that working overnight on a Saturday was more important than my co-worker's sleep. (Yes, the guy got reprimanded for abusing the system.)
I have a t-shirt that is older than the mini-Reds.
It's not a rock concert t-shirt*, it's not from a museum or Con or something, and it isn't anything of particular importance. This shirt just happened to last for a long time, and I use it when I'm working around the house and don't mind getting a stain on it. Like, say, if I'm making tomato sauce.** It has also managed to avoid getting paint on it after all this time, and I'm not exactly sure how that minor miracle occurred. However, if you hold the shirt up to the light you can see that in spots it is so thin that I can see through it.
Why do I keep the shirt? Just because it works. It fits me, I don't have to worry about being neat when I'm wearing it, and it's a connection to a time before kids (and before our first house).
Likewise, I'm occasionally given to hanging onto something in a video game "just because".
When I play one of the Civ-esque games, instead of upgrading/replacing all of my units I'll hang onto one or two of my initial units as a sort of "museum" of where my Civ has come from, in much the same way that the US Navy still has the
USS Constitution as an active naval vessel
. Those units serve absolutely no purpose in the game, and if I were to press them into service it's likely the endgame for my civilization.
But.... Those units were important to me, because of what they represented.

I also have a habit of preserving the original gear that a new toon in an MMO or RPG, purely for sentimental purposes. I'm not a pack rat***, but some gear or items I never want to sell off. The class weapons you receive in WoW are a great example of this, but also is your first lightsaber in SWTOR. Or the cloak that you received after completing the Shadows of Angmar campaign in LOTRO.

I'm also the guy who will use the original mount received in game as long as possible, until circumstances dictate I use faster transportation (such as keeping people waiting at a world boss location). Perhaps a bit of vainglory is involved there, as I prefer to not wave and shout "look at me!" when I'm out and about in a game world.

Which was kind of the point of the Celestial Steed, the so-called Sparkle Pony when it was a WoW cash shop item back in Wrath days.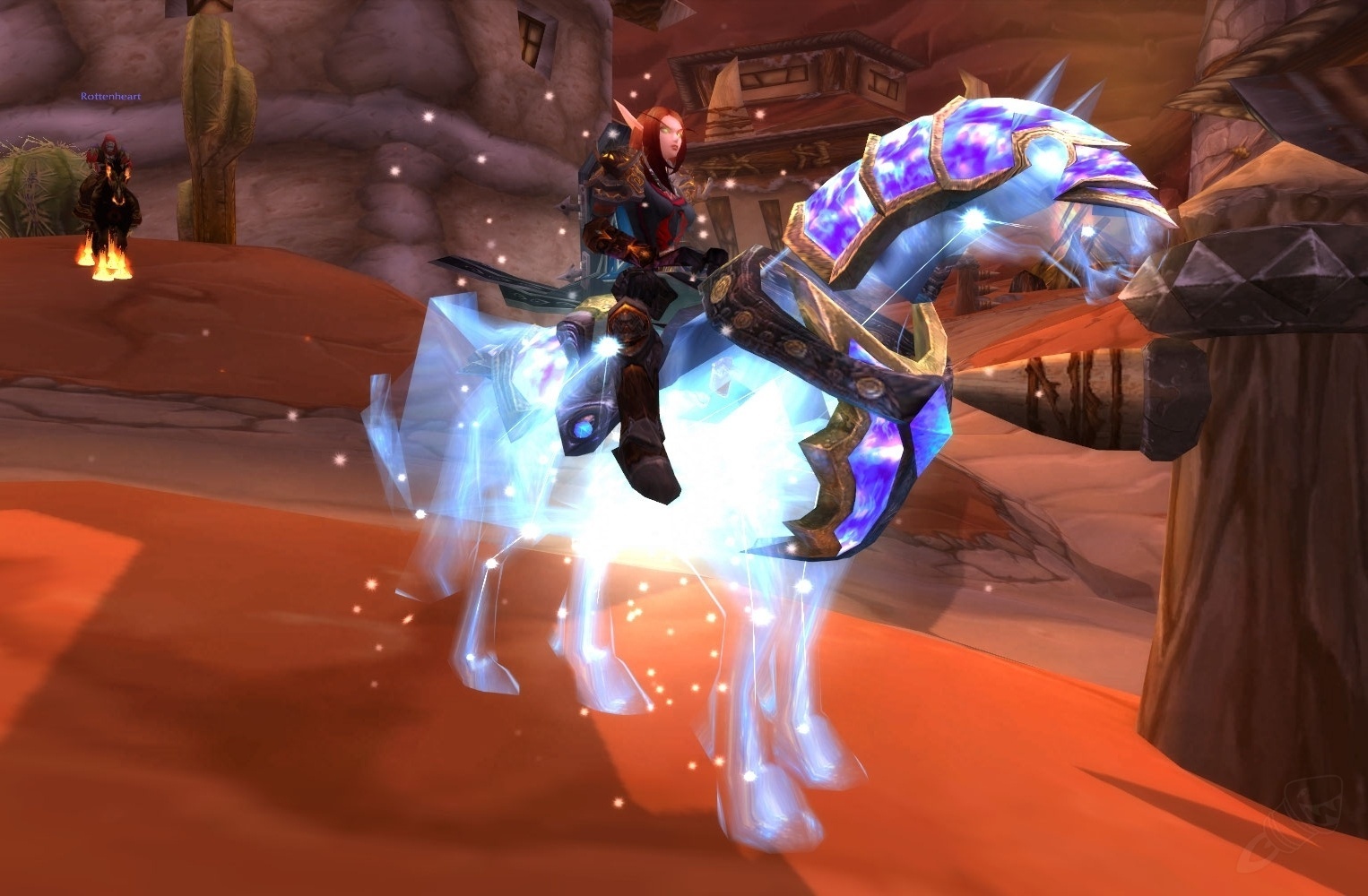 I never bought one, so I had to go
rely upon sharing one of the numerous
screencaps from WoWHead. (This one was
by Toknahtar.)
Yeah, I'm not keen those sort of shenanigans.
***
But enough about me, what about you? What do you hang onto --or not-- because it's important to you personally? Because of some sentimental attachment?
*The last one of that ilk was from The Who's 1989 tour, and that bit the dust a long time ago.
**I may enjoy food, but come on. I'm not buying a chef's jacket or bothering with an apron.

***Others might argue, but in my defense I'm never quite sure what might come in handy in a game until at least one playthrough (or at least I get far enough away in level from the gear) that I can then sell off some items in my bank or backpack. All it takes is for you to realize you were supposed to hold onto ONE item that will turn you into a semi-hoarder.