Blizz rolled out level scaling with the most recent patch, about three expacs later than they originally proposed it.*
However, if you were thinking that level scaling would operate in a similar fashion to that presented on, say, SWTOR, you're in for a surprise.
When I think "level scaling" that means that an implementation similar to that found on SWTOR, where if you have outleveled a zone the game artificially lowers your level down to an arbitrary maximum for the entire zone/planet. If you're in an instance, you're leveled up to the current level cap and your gear/abilities/etc. are scaled up to said level cap. This means everybody is roughly the same "level" in a zone, and eliminates the occasional "surprise!" overleveled area in a zone.**
Blizz has implemented a different level scaling system, which is meant to allow a player to avoid certain zones entirely. The idea is a bit more complicated than the SWTOR implementation, where the quests and enemies scale to your level and not the other way around. Additionally, the scaling in the Vanilla area can get a bit confusing as you progress. Go to
this link from Wowhead
to get the basics of where leveling happens.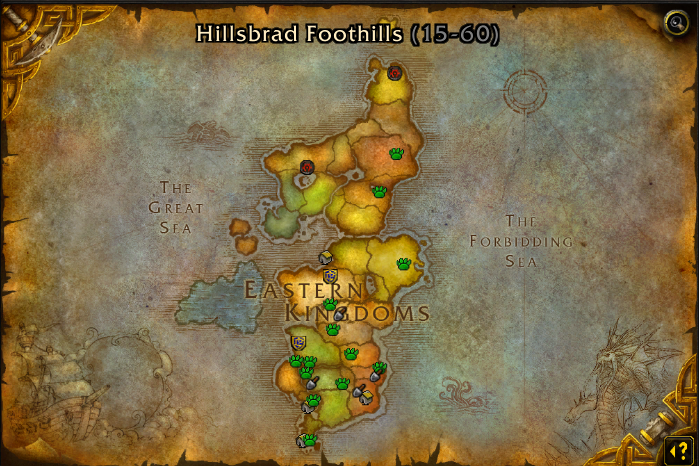 From Wowhead. Yeah, I think it odd that Hillsbrad
goes all the way up to 60. Gives a whole new meaning
to those old gankathons on PvP servers at Tarren Mill
and Southshore.
Given the way that
Kotaku explained it
, you'd get the feeling that story has pretty much been thrown out the window so you can avoid "boring" zones such as the BC leveling zones.
"If you were looking to get into World of Warcraft (or return with a new character), now's a great time to do it.
Check out all the changes coming in update 7.3.5, including new questlines and an enhanced S.E.L.F.I.E. camera, in the official patch notes."***
I think that Kotaku is kind of missing the forest for the trees. WoW already had story issues without this level scaling implementation, and now this implementation of level scaling means an acknowledgement that story and questing in the lower zones really don't matter as much as getting you to current content.
As I've said before, WoW's biggest advantage over every other MMO is not the size of its playerbase**** but that it has such a large play area. However, Blizzard's focus on the current expac and raids have imposed external limitations on the size of the WoW universe. Cataclysm's breakage of the storyline continuity made the situation worse, Now, between the "instant L90" (currently "instant L100") that Blizz instituted for Warlords of Draenor and the level scaling, Blizzard has de facto admitted that the leveling zones are merely bumps on the road to get up to speed with the current expac.
If anything, this is a problem imposed by the WoW MMO culture rather than a top down Blizzard design decision. Blizz doesn't really do anything without enough of a desire present in the playerbase, and since the playerbase is primarily oriented toward the current end game Blizzard's changes are designed to get a new toon to the endgame as quickly and painlessly as possible. You can skip the parts you don't like and zip straight to the parts you do like. The thing I find kind of odd about this is that Northrend, Outland, and the Cata zones all had multiple pathways to get you to max level, so if you didn't like Zangarmarsh you could go to Terokkar Forest. Didn't like Borean (Boring) Tundra? Head to Howling Fjord instead. Sure, these provide more options, but it's not like there weren't a lot of options to begin with.
But in the end, I do find it kind of funny that the level scaling allows people to bypass Cataclysm entirely and go straight on to Pandaria; if it weren't for Cataclysm in the first place we'd not necessarily have to have this version of level scaling around.
*A version of this was originally proposed for Cataclysm, and I looked at the possibility with a great deal of interest. I'd be able to play with friends who were at max level on other servers but without them having to create a new alt just for that purpose.
**Getting one shot in some areas of, say, Alderaan and Tatooine teaches you to avoid certain areas like the plague. Still, trying to explain to the noob not to go over that specific hill can be more trouble than its worth.
***From that
Kotaku article.
****Which is now an unknown anyway.
*****with the exception of the Wrathgate in Northrend that you pretty much had to do in order to progress to the end of the Northrend questlines.